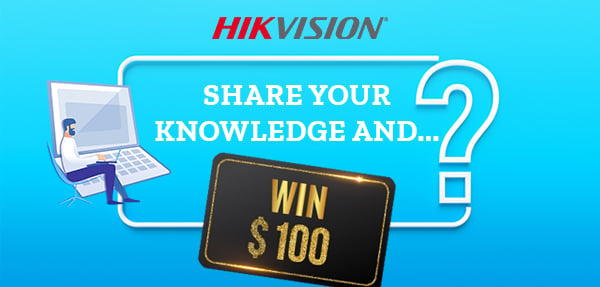 Share your knowledge and find out how much you know about Hikvision. It's easy! Just watch for our emails and posts on social media! One question will be released each week until the end of February.

Answer all 5 correctly for a chance to win.
Promotion runs through February 28, 2022. Winners to be announced on March 3, 2022.
Congratulations to the 25 winners:
Mr. Pernell, Ms. Abermanis, Mr. Jacks, Mr. Morris, Mr. Champion, Ms. Luckett, Ms. Gartner, Mr. Pierce, Ms. Espinosa, Mr. Stallings, Mr. Chadwick, Ms. Cassidy, Ms. Fenzar, Mr. Kawishe, Mr. Allen, Ms. Baptist, Mr. Lieu, Mr. Velo, Mr. Deliseo, Mr. Ciaburri, Mr. Paulk, Mr. Rabin, Mr. Ramsey, Mr. Wilcox, and Mr. Jordan!
Read the rules:
Good Luck!
Hikvision USA